How to buy EA FC 24 (FIFA 24) at the Cheapest Price?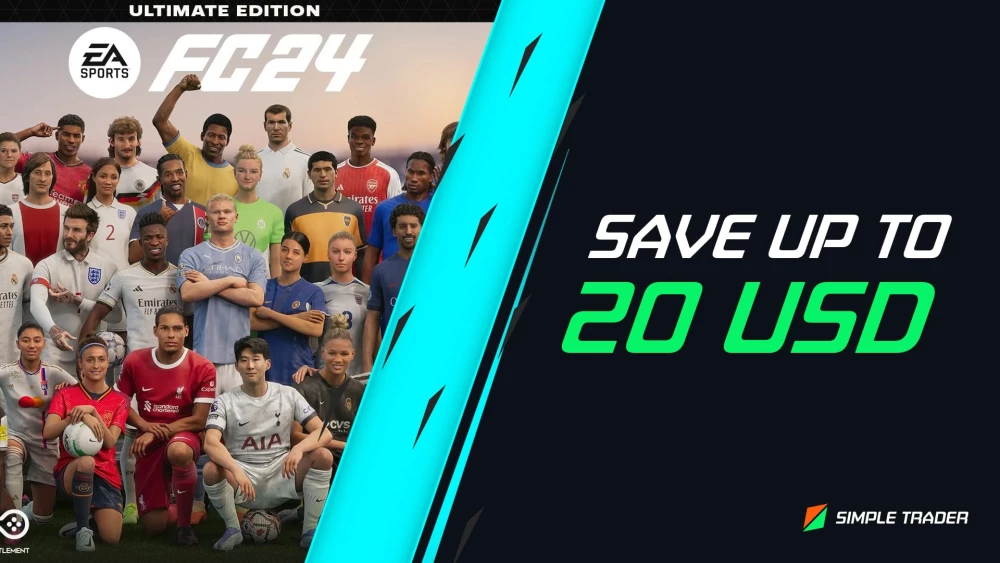 EA Sports FC 24 will be the most expensive "FIFA" game of all time. The Ultimate Edition is priced at $99.99, and the Standard Edition costs $62.99. Thanks to a few minutes of energy investment, we can easily save up to 20+ dollars from the price. For this, we have some valuable tips.
Table of Contents
EA Play Subscription
Subscribing to EA Play on Xbox and PlayStation platforms provides a 10% discount on all EA games. This means that the $99.99 Ultimate Edition will only cost $89.99 (-$10), and the $69.99 Standard Edition will be $62.99 (-$7). The subscription itself is priced at $4.99, but for new EA members, it's only $0.99 (valid until August 4, 2023).
By using the EA Play subscription, you can save up to $9 on the Ultimate Edition and $6 on the Standard Edition. Moreover, EA Play offers numerous additional benefits, such as in-game rewards, game trial versions, and access to various free EA games. Significantly, you can even try out previous FIFA titles to familiarize yourself with the gameplay until the new version is released.
Loyalty Discount
If you have previously purchased FIFA 23, you will automatically receive a 10% discount, but this cannot be combined with the discount provided by EA Play. This means you don't need an EA Play subscription if you own the previous game. You do not need to take any action to apply the loyalty discount; the Store will automatically detect if you are entitled to it.
Gift Card Purchase
There are many reliable websites where you can buy PSN and Xbox gift cards at even 10-20% cheaper than the original price. This means that you can get a $100 gift card for $80-$90, but when you redeem it in your console menu, you will still receive the full $100 value. This will provide you with an additional $10-$20 discount on your EA FC 24 purchase.
Where Can I Buy a Gift Card?
You can find several reliable service providers, and our favorite is Eneba. The web shop and payment system are reliable and professional. You can view the offers on the following links:
When shopping, make sure to pay attention to the region and buy a gift card that matches your console profile. At the end of the purchase process, service fees may be charged depending on the payment method (the Eneba wallet is free), but you can still get the game at a discount no matter which one you choose.
How to Utilize the Cards?
How to Redeem PSN Gift Card?
After purchasing a PlayStation Network gift card, the process of activation is relatively straightforward. Just follow the instructions below:
Access your PS Dashboard and enter the Store.
Scroll down to the bottom and select "Redeem Codes."
Input the PSN card code received in your email.
Once you successfully activate the PlayStation gift card online, the funds will be added to your PlayStation account within a few minutes! Alternatively, you can promptly redeem your PSN card by following these steps:
Select the items you want to purchase.
Add the selected items to your Cart.
Proceed to Checkout.
When the payment menu appears, click on "Redeem Codes and Gift Cards.
Enter the PSN card code provided in your email.
How to Redeem an Xbox Gift Card?
The process of redeeming an Xbox gift card is an easy process, offering two activation methods. Simply purchase an Xbox Live card and follow these steps:
While on the Home screen, navigate to the Store.
Choose the "Games" option from the Categories section.
Opf for the "Use a Code" feature.
Sign in if prompted.
Your prepaid key will either be in the form of a QR code or a 25-character code.
If a QR code is present, position it before Kinect sensor. For a 25-character code, manually input the characters.
If you prefer to activate your Xbox Live card through a web browser, follow these instructions:
Visit redeem.microsoft.com and select the "Redeem code" feature.
Click on the "Sign In" option
Log in to your Microsoft account.
Click on the "Redeem" option.
Enter the 25-character code and verify your action.
Enjoy your purchase!